Tempra PVC Plug & Socket
For DX3 MCB, RCCB and RCBO
AC Box
Brand: Legrand
Product Category: AC, DP & FP MCB Boxes
Current Rating: 20A
Surface Mounting Sockets
Just One Per Terminal: A single captive PZ 2 screw per connection terminal. Same type of screw for both ratings, 16 and 32 A.
Easy Cover Fixing: Stainless steel captive screws with mixed head (for cross or flat screwdriver) for a good seal, anti-corrosion resistance and time saving during installation.
Easy Removal: The active parts of the product can be removed from the base for easier wiring and changing the socket angle.
Panel Mounting Sockets
German And French-Belgian Standard: 75 x 75 mm
German And French-Belgian Standard: with small flange 50 x 50 mm
Mobile Sockets
Quick Opening/Closing System: Unlocked by pressing with a screwdriver. Marking indicates the location for the locking clip. Opened by turning the 2 parts in opposite directions.
Enhanced Protection: Removable terminal cover at the back of the panel mounting sockets.
Cable Stripping: Marking allows the user to see quickly the length of cable to be stripped and to identify connection terminals. Option of using cables with ferrules.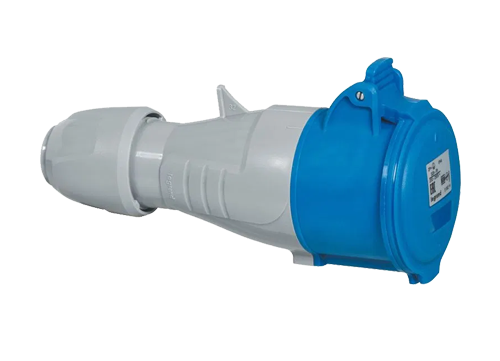 Straight Plugs
Cable grip and toolless closing
Connection screws facing one way only
Supplied unlocked